CUPSHE'S 6TH BIRTHDAY ANNIVERSARY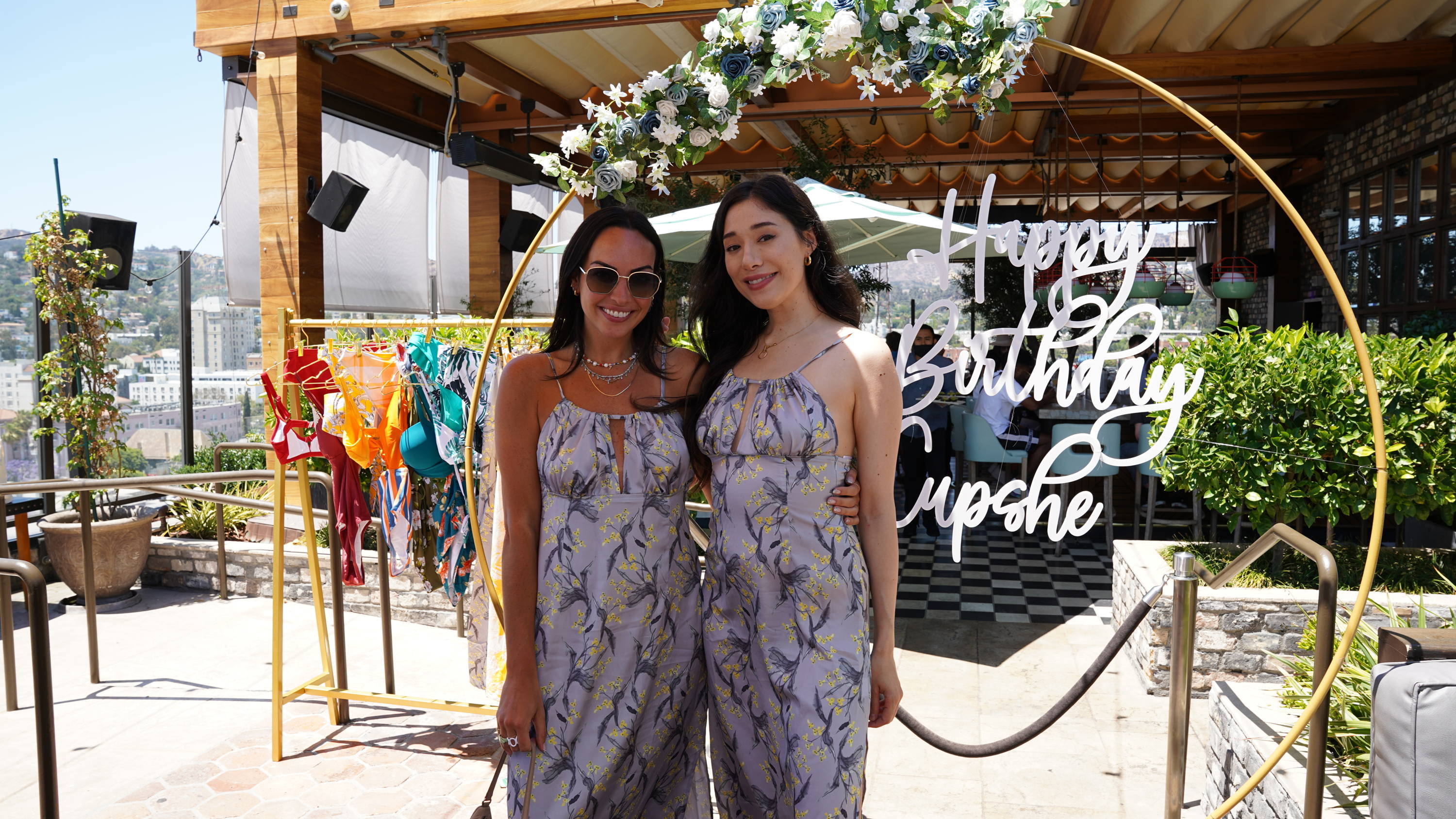 We mentioned recently that Cupshe just celebrated its sixth birthday (we know, we're so grown up). To mark this major milestone, not to mention hitting 1 million followers on social media the day before, we threw ourselves a party on June 25th. The guest list featured some of the most inspiring influencers we know, all heading to our Hollywood hideaway for a peek at this lil' rooftop pool situation we set up. Good times, great friends, pink cocktails...what more could a birthday girl ask for? We'll break it down play-by-play for you below…
So Where Was It?
The Highlight Room, an 11,000-foot (!!!) rooftop pool and deck on top of the Dream Hollywood Hotel in sunny Los Angeles, California. And yes, you can see the Hollywood sign while lounging around in the cabana!
...And Who Was There?
Twenty of our favorite social media influencers, all of them known for their impeccable taste. We bet you already saw the IG stories on their timelines already! Here's the full guest list, since we know you're curious. If you don't know our fab friends yet, check out their feeds and prepare to fall in love.
⭐Emily Sears (@EmilySears)
⭐Celine Linarte (@CelineLinarte)
⭐Sheela Awe (@SheelaAwe)
⭐Arika Sato (@Arika)
⭐Miss Anti (@MissAnti)
⭐Lisa Linh (@ByLisaLinh)
⭐Melinda Fleming (@CuratedCool)
⭐Nikki Howard (@Nikki_Howard)
⭐Daphne Blunt (@DaphneBlunt)
⭐Kimi Ellie (@KimiEllie)
⭐Katie Elliot (@_SunMoonLove_)
⭐Julie Hartwell (@ItsLeJules)
⭐Lyndon Smith (@HelloLyndon)
⭐Ravayna Coe (@Ravayna)
⭐Mel Rod (@MelRodStyle)
⭐Loreen Hwang (@CoucouJolieBlog)
⭐Lisa Cameron (@StyledByLMC)
⭐Ryann Redman (@RyannLanel)
⭐Tracy Shapoff (@TracyShapoff)
⭐Marnie Seabright (@MarnieSeabright)
What Did Guys Get Up To?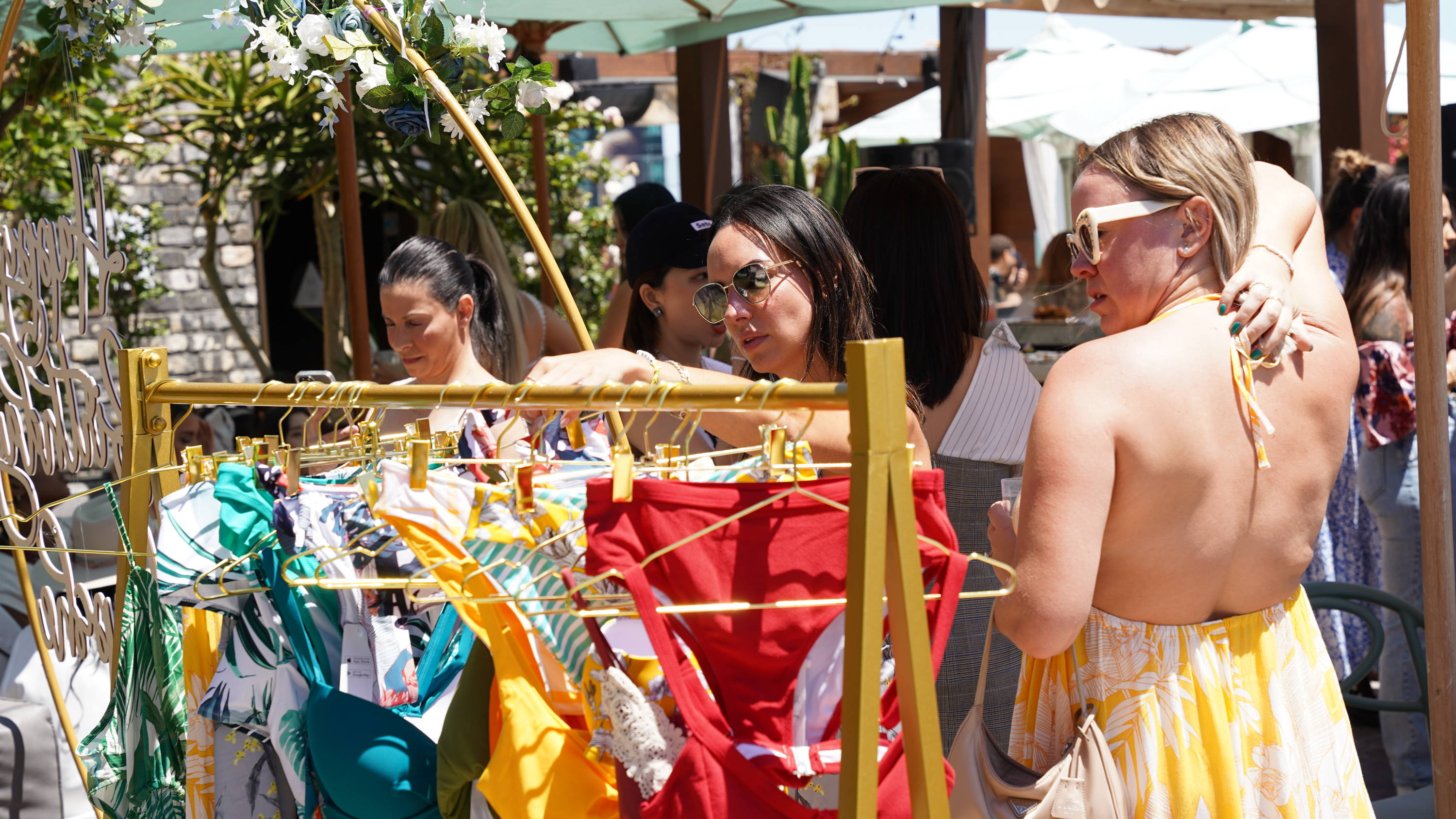 Well, you know there were fresh, fabulous California-centric apps and drinks (including our signature cocktails...more on that in a moment) because girls gotta eat. Those drinks had us feeling fine! We mean, who wouldn't be loving life after a sip of a pretty pink cocktail called the Beach to Brunch, one of our signatures. We'll let you in on the secret recipe: watermelon vodka, cold-pressed watermelon juice and lemon sour mix all shook up with a little *chef's kiss* of mint. Pure bliss on a warm summer day.
We also treated everyone to tarot readings galore, even though we didn't need any special fortune-telling services to clue us into what we already knew: all of these babes have bright futures.

BTW, we brought in a flipbook station, too. Do you guys know about these? If you've been to a particularly posh wedding or party recently, you might have already seen them or even made a flipbook of your own. If so, you'll know they're much more fun than plain old pics––think regular photo booth x 1000. If not, here's the lowdown: flipbooks are printouts of a bunch of photos that animate as you thumb through them. Like this, but in color, with photos and featuring you and your friends. They're soon-to-be-classic printed memories, in our opinion.
Oh, did we mention that we put out racks of perfect sunny-day dresses for everyone to try on? (Don't worry, we had plenty of swimsuits there as well. Because of. course. we. had. swimsuits.)

Come on, now.
But More Importantly, What Was Everyone Wearing?
Turns out that Loreen Hwang from @CoucouJolieBlog, Lisa Cameron from @StyledByLMC and Ryann Redman from @RyannLanel all went straight for the Noa Leafy Cutout Maxi Dress –– and you three ladies wore it well. Tracy Shapoff from @tracyshapoff and Kimi Ellie from @kimiellie couldn't have been cuter twinning it up in the Floral Keyhole Dress, either. Emily Sears from @emilysears made it seem like the Blair Halter Cutout Dress was designed just for her...but don't worry, it'll look adorbs on you, too.
Before these divas departed our birthday bash, we gave 'em some swag bags stuffed with goodies like Coola sunscreen (protect that skin), Glo Science (for beautiful smiles), sheet masks and Cupshe swimwear (it's what we do). Quite the haul, no? Seemed like everybody was pretty pumped about it, if we do say so ourselves.
So that's the end of the story, sunshines. We can't thank all of our followers, partners and customers enough for supporting us through six full circles around the sun. Here's to empowering women for many more years to come!